Williams is a famous name in Formula One, but during this season, the team has had a case of the Williams Woes. As a result Stroll and Sirotkin have had a difficult time trying to compete in a car that test driver, Robert Kubica has deemed embarrassing. But what has been the cause of this? There have been a number of reasons put forward. Paddy Lowe, the Chief Technical Officer has been seen as some for not being good enough to lead development of the team.  Stroll and Sirotkin are not Formula One level drivers and simply have a seat from the money they bring to the team. Recently Lowe has addressed these issues and denying that it is not the drivers that are creating Williams woes. He acknowledged that there is a problem and it is up to him and the team to solve it.
"Williams' lack of results today is a problem with the car, not the drivers. It's up to us to solve them" – Lowe
In addition, Lowe added,
"We're not making them public but there's a major operation inside Williams to fix them." – Lowe
Is Stroll Snr to blame for Williams woes?
It's not a surprise that Williams woes began to appear once Stroll won the seat at the team in the season prior. There had been rumors floating around the paddock media suggesting that Stroll's father had paid upwards of $80m USD to land his son a seat. In contrast it would not be a surprise that Williams went for the money with the ever increasing development costs of the sport. In hindsight, maybe the team wouldn't be in this current position with an experienced and proven driver. Stroll Snr is said to be involved in the decisions making of the team.  As a result, this could potentially be toxic to their success if he forces Williams to prioritize around his son. Lowe dismissed any conflict with Stroll Snr's influence on the team, saying that his input is beneficial.
"He is very supportive of the group, and even me, and is trying to be available to help. I would say that he's a great partner" – Lowe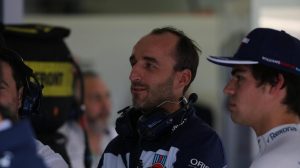 So what could be the answer to Williams woes? Would a change in management or a driver swap be enough? With their current situation, I can not think of an overnight fix for Williams. The team have continued in the latest race of the season. Stroll and Sirotkin both did not manage to finish the at the Hockenheimring. Above all I believe that Williams should write off this season and focus on the next. But how should they approach it?
What should Williams do?
Lowe has led the development of the team unsuccessfully for the past two seasons so he should go. Furthermore two relativity inexperienced drivers are not going to cut the mustard for providing valuable feedback to the team. Hence, Williams should sign at least one experienced driver to the seat. I can not see Stroll being dropped due to his wealth so unfortunately it would be Sirotkin. Kubica stepping up would be the easiest choice since he is familiar with the team and their car. In addition, Raikkonen might not be such a far fetched option, but the Finn's motivation could be questioned. Concluding, Williams need to sort their woes fast, otherwise their historic team could fold.
---
Like this motor sport post? Find more blogs on Part Hunter here.
---